---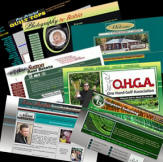 Here's a few links to web sites that I have created. If you are in need of professional assistance with web creation and/or graphics for web pages you may contact us at 731-986-4901 or through our
E-Mail
connection. We are a full-service web developer and can provide assistance with photography, domain registration, web hosting, web creation and maintenance.
---
I take pride in developing web sites that load fast and are easy to navigate. Even though most of our sites are graphic intensive I still maintain fast loading speeds by optimizing images to their highest quality and lowest file size. If your site takes too long to load, your viewers may become tired of waiting and go elsewhere. Ease of navigation is also a must for your site's visitors, if they get lost trying to find something on your site you may have lost them as a customer,,, your web site says a lot about your business. These sites are not created from templates, they are created individually and are personalized to match each business they represent.
Clicking a Web Link below will open the site in a new window.
---
Bush Forestry


The logging industry has an experienced equipment dealer in West TN. Don Bush has owned and operated Bush Forestry since 1993 and has helped develop much of the technology used in today's logging machinery.

Humphrey's BBQ Sauce


A traditional and tasty barbeque sauce from the small town of Cedar Grove, TN. Humphrey's has been around since the 1930's and is owned by third generation family member, Diane Humphrey-Bailey. The launch of their new website makes their sauces available all across the country.

Performance Running of West Tennessee


Performance Running caters to the professional as well as the amatuer runner and sports enthusiast. They carry a long line of shoes and sports apparel in their Jackson, TN store.

Bethel Wedding Chapel


Having a wedding or want to renew your vows? The Bethel Wedding Chapel in McLemoresville, TN is an ideal place to hold your ceremony in a quaint and lovely setting. The Chapel is an historic turn of the century Presbyterian Church with character and style, newly restored to its original appearance.

JACK WALLIS DOORS, INC.
A full-featured site for a very creative stained glass and custom door creator. Take a tour of his online portfolio and download his full-color catalogs in PDF format, this is a site to be viewed by anyone building a new home.
CITY OF McLEMORESVILLE


A simple web presence for my hometown, giving a biography of the town and its surroundings. Not much of a website compared to most that have multiple pages and photos, this is just the bare necessities needed to present our community to the world.

NOTICE: if you have arrived here through clicking a link from a SEARCH ENGINE listing, you may be missing a lot
of our design samples, use this link to go to Elliott Sign & Design Home Page to view our complete web site.
©1998-2021 All images, design/layouts and artworks are the
copyrighted property of Elliott Sign & Design, all rights reserved.